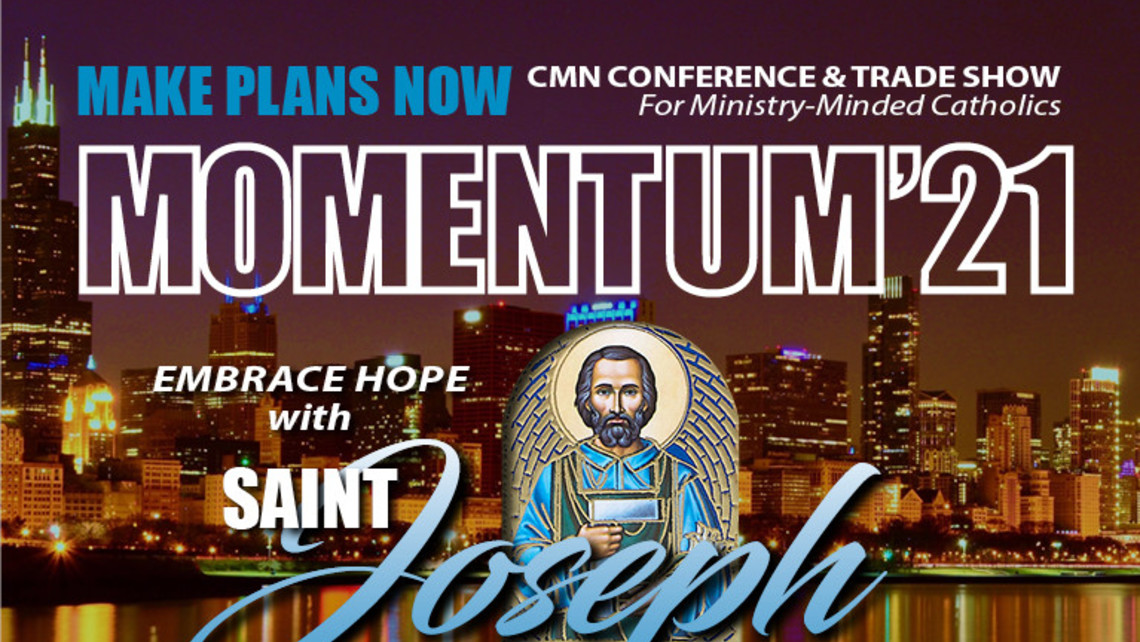 Date:
Tuesday, July 27, 2021 (All day)

to

Thursday, July 29, 2021 (All day)
Location:
Renaissance Schaumburg Hotel and Convention Center 1551 N. Thoreau Drive Schaumburg, IL 60173
Catholic Marketing Network (CMN) empowers the success of Catholic businesses & apostolates dedicated to devotional prayer, faith formation, and evangelization.
The MOMENTUM'21 event is where CMN will help ministry-minded Catholics to:
FIND new resources, services, and collaborators
CONNECT with important experts and information
NETWORK to build success through strategic partnerships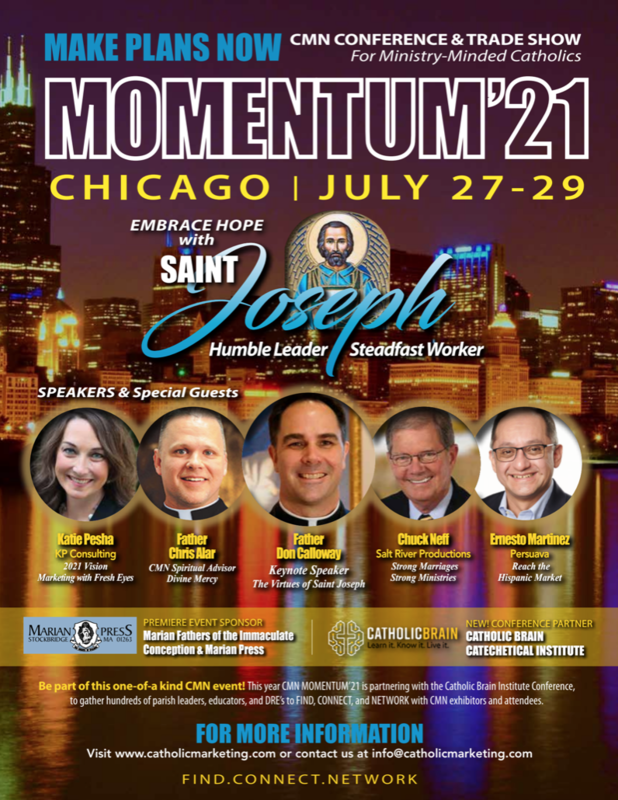 CEMA EXHIBITOR BOOTH: CMN is providing a booth for CEMA to connect with event attendees in the MOMENTUM'21 Expo Hall. CEMA members will be able to take turns at the booth at ditfferent times with this powerful chance to promote the Coalition and to promote their own apostolate. (This FREE both space is valued at $1,295.) See the CEMA booth location HERE.
CEMA Meeting Space: CMN is providing a meeting space for CEMA from Tuesday, July 27 to Thursday, July 29 to meet face to face and make powerful plans for the coming year. (This FREE Meeting space is valued at $500) Check the CMN schedule page for times of CEMA Meet-ups on Tuesday and Wednesday.
CEMA Joint Session with NASPA (National Association -Shrine and Pilgrimage Apostoalate) on Tuesday, July 27 at 1:30PM. This session will explore the ways devotional prayer apostolates and Shrines can work together to build community through intitatives like the Call to Confraternity  led by Dennis and Angelina Girard and the Marian Devotional Movement, in which the Bridge of Roses film is used as a "Call to Action".
Be empowered at the Business and Ministry Seminar: CEMA apostolate attendees will receive powerful information from our conference presenters, make important connections, and learn ways to up their game in their good work for God. 
Discounted Hotel Stay: Use this link to reserve a hotel room at the lovely Marriott Renaissance for the discounted CMN rates.
CMN Membership: Many CEMA Apostolates could greatly benefit from the year-round marketing and networking available to them through membership in Catholic Marketing Network. Find out about the value of CMN Membership with this link. Get detailed information about the levels of membership and how to JOIN with this link. 
**Be confident that at the CMN Summer 2021 event, every effort will be made to safeguard the health and safety of each exhibitor and attendee.